It's almost Halloween – the time for ghouls, ghosts, and goblins! This year, go beyond just a killer costume and make your social media shine with the perfect caption.
Whether you're dressing up as nurse or doctor with coworkers, friends, or going solo, snapping some photos to remember the occasion is a must.
Coming up with creative and clever captions can take your Instagram, Facebook, or Twitter posts to the next level.
To help you easily add some spooktacular words to your pics, we've put together over 100 Nurse Halloween captions and doctor captions.
From funny medical puns to creepy sayings, you'll find the perfect caption to capture the eerie spirit of the season.
Our list includes ideas for individual costumes, couples, groups, and more. So scroll through our guide for inspiration to make your social media posts stand out and get all the likes from your fans.
100+ Nurse Halloween Captions
The following is a list of Nurse Halloween captions for your social media pictures:
1. "🌙 Nurse by day, witch by night. Happy #Halloween!"
2. "Injecting some spooky fun into #Halloween! 💉👻"
3. "This nurse is here to heal your Halloween fears. 🩺🎃"
4. "Nurse by profession, witch by choice. 🧙‍♀️🌟 #NurseWitch"
5. "Wishing you a boo-tiful Halloween from your favorite nurse. 🎃👩‍⚕️"
6. "Don't worry, I've got your Halloween health covered! 💊🦇"
7. "Stethoscope? Check. Witch's hat? Check. Let's cast some spells this Halloween! 🧙‍♀️🔮"
8. "When the night falls, this nurse becomes a Halloween enchantress. 🌌✨ #EnchantedNurse"
9. "Even on Halloween, I'm here to take care of you. 🎃❤️ #NurseLife"
10. "Trick or treat, and a dose of nursing care! 🍬💉"
11. "Nurse by day, ghostbuster by night. 👻👩‍⚕️ #GhostbusterNurse"
12. "Dressing up for Halloween is just what the doctor ordered. 👨‍⚕️👻 #DoctorNurse"
13. "Witches and nurses make the best Halloween duo! 🧙‍♀️👩‍⚕️"
14. "Caring for your Halloween heartbeats! ❤️🎃 #HalloweenCare"
15. "No need to be scared – this nurse is on the case! 😱🕵️‍♀️"
16. "Giving Halloween a shot of spookiness! 💉👹"
17. "When the moon rises, the nurse's Halloween magic awakens. 🌝✨ #MagicNurse"
18. "Here to dispense both treats and band-aids this Halloween. 🍭🩹"
19. "Spreading Halloween cheer, one syringe at a time. 💉🎉"
20. "Wishing you a Halloween filled with potions and pumpkin patches! 🧙‍♀️🎃 #PotionParty"
21. "Nurse, healer, and Halloween enthusiast! 👩‍⚕️👻 #HalloweenEnthusiast"
22. "This nurse is ready to diagnose your Halloween spirit! 🧐👻"
23. "Dressed in scrubs by day, Halloween costumes by night! 👗🦇 #CostumeSwitch"
24. "When the pumpkins are carved, the nurse is ready to party! 🎉🎃"
25. "Happy Halloween! Time to get your spooky check-up. 👻🩺"
26. "Scaring away the Halloween goblins with my nurse's charm. 🧙‍♀️👹 #NurseCharm"
27. "Stitching up Halloween fun, one costume at a time. 👘🎃 #CostumeStitch"
28. "Halloween is my favorite time to mix work and play! 👩‍⚕️🎉 #WorkPlayMix"
29. "Wishing you a Halloween as sweet as candy and as eerie as a haunted ward! 🍬👻"
30. "This nurse is on a mission to cure your Halloween blues! 💙🎃 #HalloweenCure"
Also read: 200+ Halloween social media captions (Instagram, Tiktok, Facebook, X, Linkedin)
Nurse halloween costume instagram captions (Nurse caption ideas)
Here is a list of Halloween nurse captions for Instagram:
1. "Making house calls to check your fright condition!"
2. "Rx: Take one fun pill, prn for a killer night!"
3. "Code Orange-and-Black tonight, all nurses report for spooky duty!"
4. "Trading my scrubs for this costume to resuscitate the Halloween spirit!"
5. "Breaking out of the on-call room for a night of tricks and treats!"
6. "No bones about it, this nurse is ready to par-tay!"
7. "Tonight this bag is filled with tricks, treats…and medical supplies, just in case!"
8. "Haunt Cou-gh, I mean, Happy Halloween! Watch out for a creepy nurse tonight!"
9. "Nurse coming through! Make way for syringes, potions and medicines!"
10. "Beware – this nurse might give you a scare along with excellent medical care!"
11. "My hospital had to quarantine the ICU…something sinister happened there!"
12. "I was sent home for startling patients. Who knew dressed as a zombie nurse would scare people?"
13. "This nursing cap hides a secret – my head was grafted onto someone else's body!"
14. "I crept out of the morgue to find some Halloween fun. Shhh don't tell my patients!"
15. "Made a few deadly mistakes on my rounds today…Muahaha!"
16. "Oops, did I accidentally switch your medicine with cyanide? too late now!"
17. "Lost a few patients on my overnight shift last night…or maybe I helped them along?"
18. "Watch out, I know how to kill and not leave a trace! Just kidding…or am I?"
19. "I'll sneak you candy and cookies, but skip your vegetables – they keep you healthy!"
20. "I'm plotting to steal the good drugs from the pharmacy to liven up this party!"
21. "Go ahead, call for the nurse… if you dare!"
22. "The nurse will see you now…if you survive!"
23. "Emergency entrance to the left…of the graveyard!"
24. "Time for your sponge bath…with ice cold water!"
25. "Open wide for your medicine! Side effects may include: nausea, vomiting, and hallucinations."
26. "Lights out at 9PM sharp…or else!"
27. "No wifi, no visitors, no phone calls! Nurse's orders."
28. "You're on a new regiment tonight.. of tricks and sweets!"
29. "Visiting hours are over, time for your medicine! It's..quite toxic."
30. "Needles ready for your checkup! Don't worry, it will only hurt a bit…or a lot!"
Also read: 100+ Halloween weekend captions for Instagram (2023 Edition)
Cute Halloween nurse captions
Here are some best cute nurse halloween captions:
1. "Time to perform some freaky operations"
2. "Hope you're ready for your final checkup"
3. "Tonight this nurse prescribes trick or treating"
4. "Beware, my bedside manner is killer"
5. "Going to revive this party from the dead"
6. "Naughty nurse reporting for duty"
7. "Head nurse coming through"
8. "Nurse Ratched is ready to party"
9. "Even nurses need a night off"
10. "This nurse is ready for some late night rounds"
11. "Don't forget to bring your screaming baby to the party"
12. "No skeletons in this nurse's closet"
13. "Emergency medical Halloween party"
14. "I'm dying to diagnose your costume"
15. "Time to operate on some Halloween fun"
16. "A caring costume for a fun night"
17. "The healing starts tonight"
18. "Nurses know how to treat their patients"
19. "This dedicated nurse is ready to party"
20. "A contagious costume spreading Halloween spirit"
21. "Nurse Ratched reporting for duty"
22. "Naughty nurse ready for a wild night"
23. "Nurse Joyce is clocking in"
24. "Sorry no doctor, just a party animal nurse"
25. "Nurse Chapel here to treat all costumes"
Also read: 140 Cowboy and Cowgirl Halloween captions for Instagram Pictures (2023 Edition)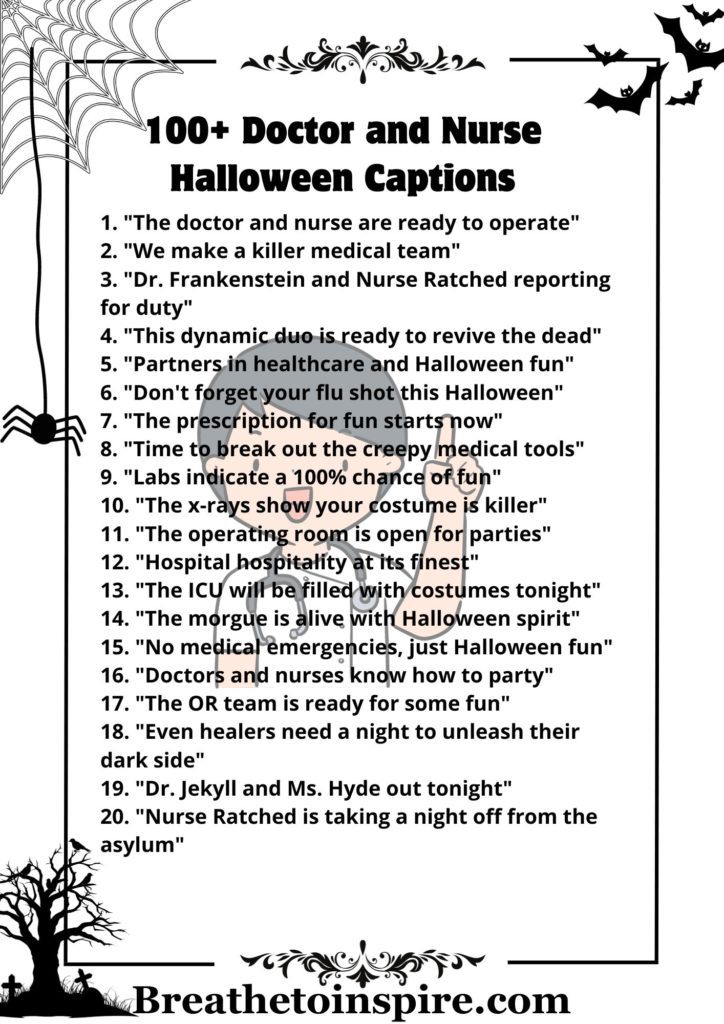 Best Nurse and doctor halloween captions
The following are some nurse and doctor halloween captions:
1. "The doctor and nurse are ready to operate"
2. "We make a killer medical team"
3. "Dr. Frankenstein and Nurse Ratched reporting for duty"
4. "This dynamic duo is ready to revive the dead"
5. "Partners in healthcare and Halloween fun"
6. "Don't forget your flu shot this Halloween"
7. "The prescription for fun starts now"
8. "Time to break out the creepy medical tools"
9. "Labs indicate a 100% chance of fun"
10. "The x-rays show your costume is killer"
11. "The operating room is open for parties"
12. "Hospital hospitality at its finest"
13. "The ICU will be filled with costumes tonight"
14. "The morgue is alive with Halloween spirit"
15. "No medical emergencies, just Halloween fun"
16. "Doctors and nurses know how to party"
17. "The OR team is ready for some fun"
18. "Even healers need a night to unleash their dark side"
19. "Dr. Jekyll and Ms. Hyde out tonight"
20. "Nurse Ratched is taking a night off from the asylum"
21. "Dr. Hannibal Lecter and Nurse Ratched"
22. "Come with us if you want to live"
23. "If you're sick, I suggest you see an undertaker"
24. "No more tears, only Halloween treats"
25. "Nurse Chapel and Dr. McCoy beam down for fun"
Also read: 80 Halloween Horror Night Captions (2023 Edition)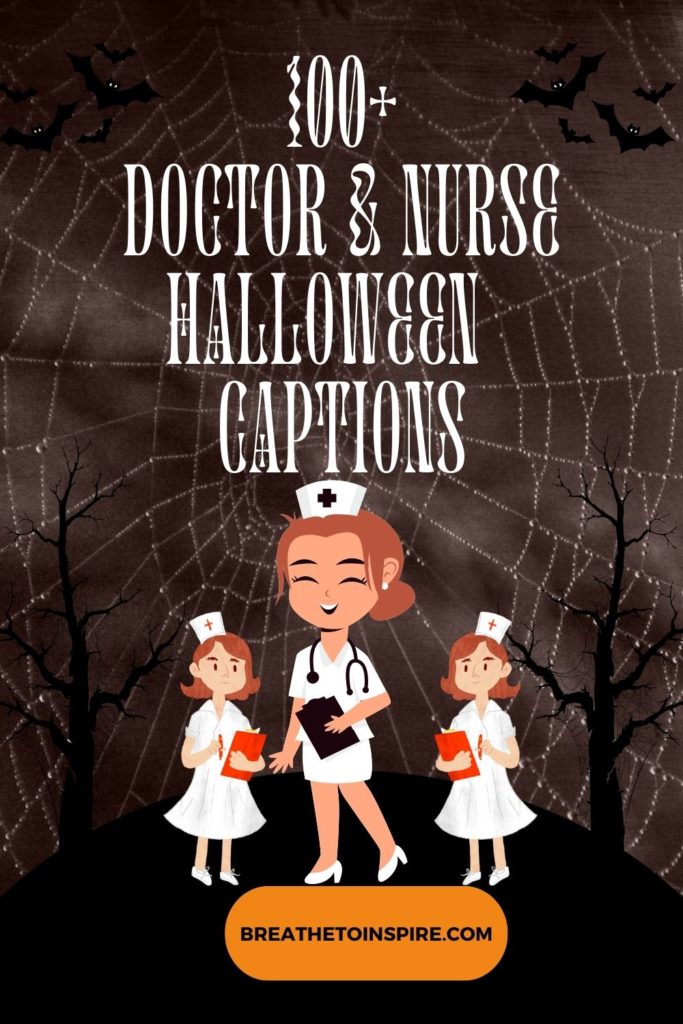 Conclusion:
With over 100 specific Halloween nurse captions, you'll be fully prepared to make your social media posts shine this Halloween.
Simply find the perfect phrase to pair with your costume pics to bring some medical mischief. Have a safe and happy Halloween!
This page may uses affiliate links. When you click an affiliate link, we get a small compensation at no cost to you. See
Our affiliate policy
for more info.