Humans are complex creatures. We are made from layers and layers of history, experiences, knowledge, and thoughts.
This complexity is what makes each one of us amazing — it also makes it hard to truly get to know someone.
There are lots of things one can do to make another think, among them drawing their attention to the absurdity of life around us.
One way to achieve that is by asking peculiar questions. And such a situation would change entirely when someone is psychedelic or trippy in nature
Also read: 200+ Trippy questions about reality, life, world to ask others and yourself
Everywhere you go, you see the power of questioning. From the simplest word questions to philosophical and existential inquiry, questioning is deeply ingrained in human culture. Humans don't like not knowing — what will happen tomorrow?
Imagine one more ordinary day then suddenly a butterfly pops up on your screen and asks "Do you believe in the soul?" or you're wondering if it exists?
Or maybe there are just a lot of trippy questions to ask your high friend about life, about the universe, and about everything else that crosses your mind. Interesting, weird, and sometimes trippy questions will change your perception totally. Do you think so?
The concept is simple. Rather than making your point yourself, ask the other person a question that makes them think.
Not only will they appreciate the fact that you took the time to consider their perspective and validate their ideas, but you'll also both have a great conversation leading to an understanding on both sides.
Here's a set of the trippy questions to ask your stoner friend when you are partying or having fun in a group.
60+ Trippy questions to ask your high friend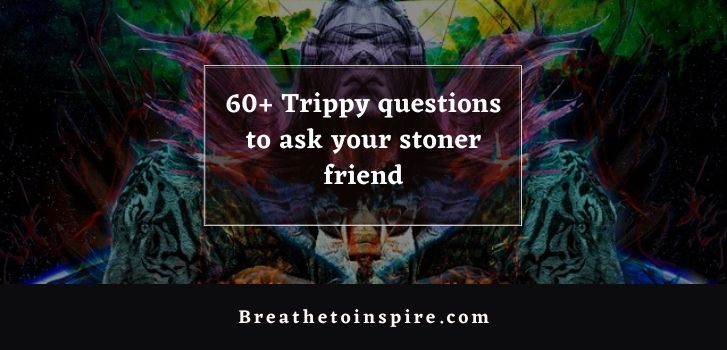 Here is a list of trippy questions to ask your high friend that make you think deep
1. Are things expensive because they're good or are things good because they're expensive?
2. If you're only as young as you feel, does that mean that when old people start acting immature, they live longer?
3. If psychics can see the future, why don't they just bet on the lottery and get rich?
4. If a person owns a piece of land do they own it all the way down to the core of the earth?
5. When an atheist goes to court, do they swear on the bible?
6. Did you know that spelling is the number one cause of spelling mistakes?
7. Why is it called your "bottom," when it's really in the middle of your body?
8. Is your sense of self and identity a real thing or just an illusion?
9. Does your mind control your body or does your body control your mind?
10. How can you know that what I think is real is actually real?
11. If a clock could count down to the moment you die would you want to know how much time you had left?
12. What would happen if someone sued his psychiatrist for writing crazy prescriptions?
13. Are eyebrows considered facial hair?
14. Doesn't expect the unexpected make the unexpected expected?
15. What happens if you get scared half to death twice?
16. Would a fly without wings be called a walk?
17. Is there really only one correct way to live our lives?
18. Is it possible to see all atoms in the universe at once?
19. Where did I come from and where am I going?
20. If a person murders someone else on top of Mount Everest, would they be charged with high murder?
21. If all the world is a stage, where is the audience sitting?
22. Do married people live longer than single ones or does it just SEEM longer?
23. Why do they sterilize needles for lethal injections?
24. Do people exist in the same way that objects do?
25. Does the world exist when I'm not looking at it?
26. Who are you really?
Also read: 125 Trippy questions to ask your friend
27. What are dreams, exactly? Are they real?
28. Why do we have to die?
29. Do we live in a simulation, like in The Matrix movie?
30. Why do we say "bye bye" but not "hi hi"?
31. Why is it called a 'drive through' if you have to stop?
32. Why do we wash bath towels? Aren't we clean when we use them?
33. Why doesn't glue stick to the inside of the bottle?
34. If a book about failures doesn't sell, is it a success?
35. If pro is opposite of con, then what is the opposite of progress?
36. Are you out of your mind or in it?
37. Is there such thing as a real hangover cure…or do you just get used to feeling like crap?
38. Why is it that everyone driving faster than you is considered an idiot and everyone driving slower than you is a moron?
39. Why is it considered necessary to nail down the lid of a coffin?
40. Why is there a light in the fridge and not in the freezer?
41. Is it possible to be absolutely partial?
42. When animals eat, do they ever get embarrassed from burping and farting in front of people/other animals?
43. If a bus station is where a bus stops, and a train station is where a train stops, what's a workstation?
44. What would it be like to have an org#sm with every person you've ever met?
45. When will the universe end?
46. How much water has the earth absorbed since the beginning of time?
47. What if we live in a computer simulation and there is no such thing as your real body?
48. What if your brain is unable to comprehend the reality that exists outside of our perception?
49. What if time does not exist and everything happens all at once?
50. What if there is no such thing as time and everything happens at the same time?
51. What if gravity was the only thing holding us down on Earth and we could fly through space without using rocket fuel?
52. What if every person has their own unique perception of reality and they cannot understand anyone else's unique perception of reality?
53. What if all human beings are just projections inside another human being's mind?
54. What if we are living inside a VR simulation right now and do not realize it because our brains are unable to
55. Why do they call them hamburgers when they are made of beef? Shouldn't it be called cow burgers and lamb burgers be called sheep burgers?
56. Why do people buy hotdogs in packages of 10 and buns in packages of 8?
57. Why are there flotation devices under plane seats instead of parachutes?
58. Why are there no "biscuits" in "Biscuitville"?
59. Why do they put Braille dots on the keypad of the drive-up ATM machine?
60. What is the opposite of the opposite?
61. Is silence sound or noise?
62. If water freezes into ice at 0 degrees centigrade, why doesn't it boil at 100 degrees centigrade?
63. If we don't sleep, what do we do after we close our eyes?
64. Why do you have to 'put your two cents in but it's only a 'penny for your thoughts? Where's that extra penny going?
Also read: 90 Trippy questions about reality.
40+ Trippy questions to ask someone on weed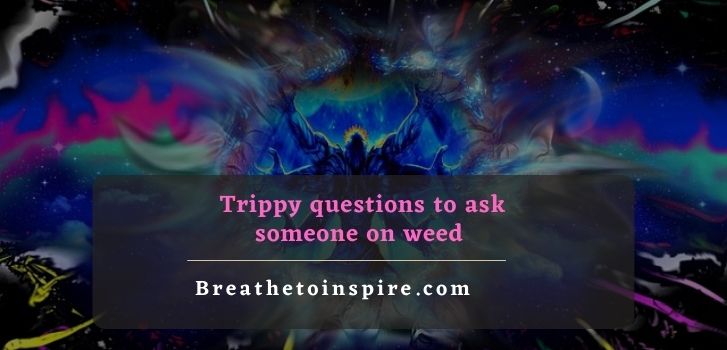 Whether you're out with a couple of friends, or having a friendly discussion or an argument with someone you know, these questions are great to throw in as a thought-provoking idea.
A lot of these questions are impossible to answer without thinking about life itself. Our brain is always entertained by questions that take you down a deep path of thought and leave you scratching your head.
Those are the questions that make you think outside the box and force you to view the world from a different angle.
Here are list of trippy questions to ask someone on weed and have fun intellectually and spiritually.
1. Is the glass half-full or half-empty?
2. Are you really reading these words, or just looking at them?
3. What is the sound of one hand clapping?
4. Is anything in this world real or are we all just sleepwalking through life?
5. If you press a button and save 10 people from fire by killing one person, would you do it?
6. Can you think of a color that has the letter "e" in it? (Gotcha!)
7. Is it better to have loved and lost than never to have loved at all?
8. How many licks does it take to get to the center of a Tootsie Pop?
9. If you do not know where your mind is, how do you know it exists? If you want to find it, how would you look for it?
10. What if this isn't a question? What if these aren't words? How do you know what I'm typing right now? Are you sure this is even English? Is this even a language at all? What makes a language a language?
11. What happens when the lights go out and we can't see anything anymore? Does that mean nothing exists anymore? How do we know what exists or not if we can't see it?
12. What if up is down and down is up and left is right and right is left and in front of us is behind us and behind us is in front of us and above us is below us and below us is above us and something big is actually small and something small is actually big and time moves backwards not forwards, how would we know?
This means everything we thought was true would be completely false
13. Have you ever tripped so hard that you forgot you were high?
14. If humans evolved from monkeys, why do we still have monkeys?
15. What if the world is a simulation and our lives are just video games?
16. Why is it called a building if it's already built?
17. How come balloons don't deflate when they are at high altitudes?
18. If your nose runs and your feet smell, then why do you have to put socks on your nose?
19. Why can't you tickle yourself?
20. Why are there interstate highways in Hawaii?
21. Why do they call it the Department of Interior when they are in charge of everything outdoors?
22. Is it possible to organize an infinite number of things?
23. Would you rather be blind or deaf?
24. If time travel was possible, would you go back in time or into the future? Why?
25. Is there life out there in the universe?
26. Is there a God or higher power? How do you know for sure?
27. Do we have free will, or are all our actions predetermined by our brains and genetics and past events over which we have no control?
28. Are we alone in the universe, or do aliens exist somewhere out there among the stars?
29. What do you think is going on in someone else's mind right now?
30. What do you think happens after we die?
31. What do you think the government is keeping secret from us?
32. What do you think is the meaning of life?
33. Do you believe people can read your mind?
34. If you could go back in time, what would you want to change?
35. Is there such thing as reincarnation?
36. Can some people communicate with animals?
37. Do aliens exist and have they ever visited Earth?
38. Do ghosts exist, or is it just our imaginations playing tricks on us?
39. When you look at a clock and it's 3:15, what's the first thing that comes to mind?
40. What would life be like if everything was the opposite of it is now?
41. If you're driving at the speed of light and you turn on your headlights, what happens?
42. Why do we have superheroes with capes, but super villains with masks?
Final thoughts:
In the end, though, the real goal for these trippy questions is not just to gather information about someone else—it's to make yourself think.
By exploring your world in a new and unusual way, you might find that the process changes how you view everything around you. And isn't that what life is all about?
And since I didn't provide any answers within the article, and since many of these questions will be subjective to an extent, you can ask anyone around you (or even yourself) these questions, and hopefully expand your creative thinking abilities and outlook on life.
This page may uses affiliate links. When you click an affiliate link, we get a small compensation at no cost to you. See
Our affiliate policy
for more info.