Spooky season is upon us, and Halloween is the time to unleash your inner "baddie."
As little goblins and ghosts roam the streets in search of treats, it's your chance to shine in fierce, fabulous style.
Whether you're planning a small gathering or a massive shindig, you'll want your Instagram game to be on point.
That's where our "100 Baddie Halloween Captions" come in. From sassy one-liners to empowering quotes, these Evil halloween captions will add an extra dose of attitude to your Halloween photos.
Get ready to slay the season and let your Instagram feed ooze confidence and style!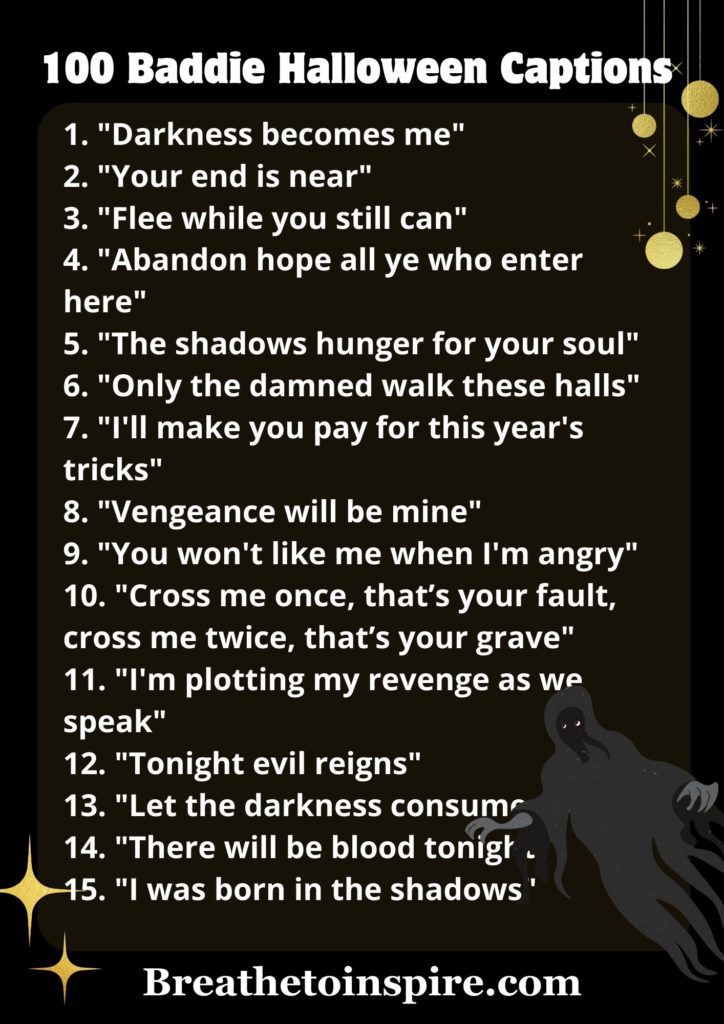 100 Baddie halloween captions
The following is a list of baddie halloween captions:
1. "Darkness becomes me"
2. "Your end is near"
3. "Flee while you still can"
4. "Abandon hope all ye who enter here"
5. "The shadows hunger for your soul"
6. "Only the damned walk these halls"
7. "I'll make you pay for this year's tricks"
8. "Vengeance will be mine"
9. "You won't like me when I'm angry"
10. "Cross me once, that's your fault, cross me twice, that's your grave"
11. "I'm plotting my revenge as we speak"
12. "Tonight evil reigns"
13. "Let the darkness consume you"
14. "There will be blood tonight"
15. "I was born in the shadows"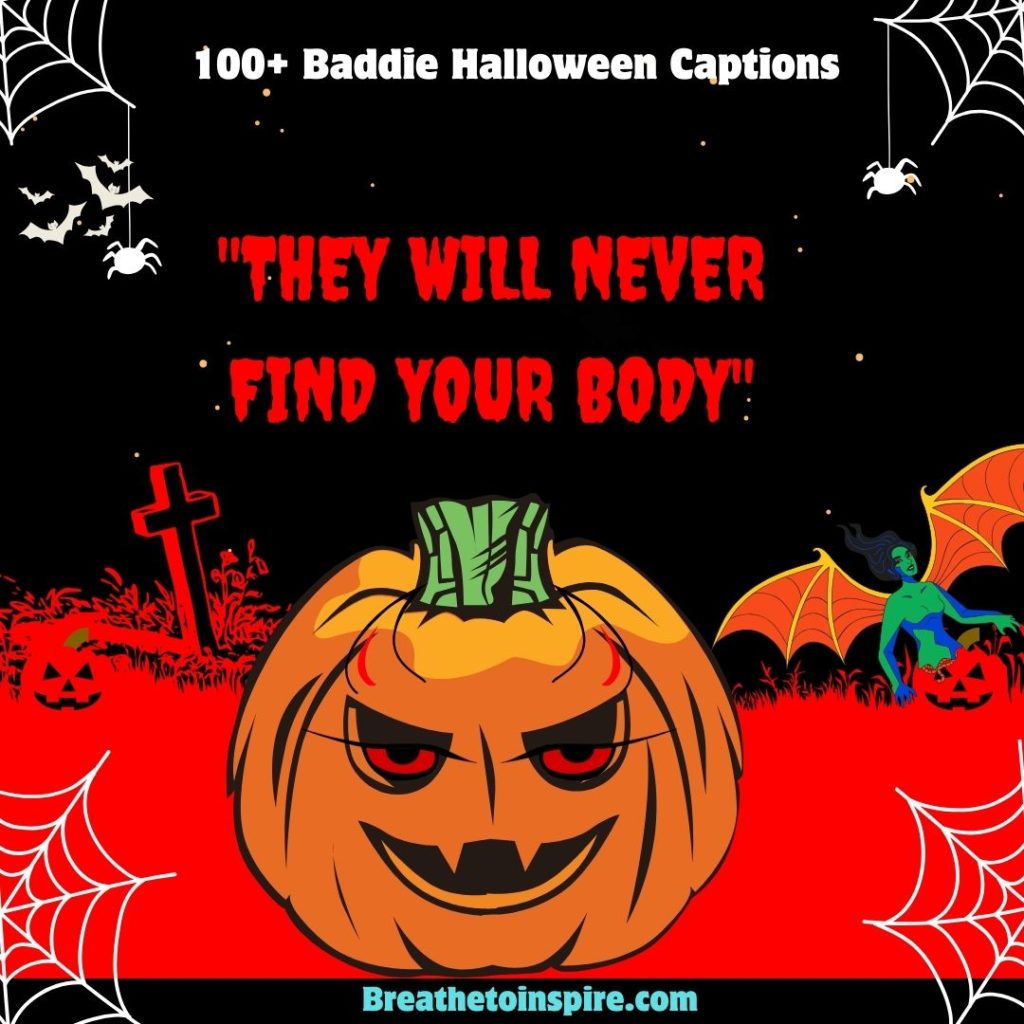 Also read: 300 Haunted house captions for Instagram |cute|funny|clever | Scary (halloween edition)
16. "Tonight I unleash my dark side"
17. "Abandon hope all who cross this threshold"
18. "They will never find your body"
19. "I'm trouble in disguise"
20. "Looks can be deceiving"
21. "You're in my web now"
22. "One kiss and you're mine"
23. "Let me steal your soul tonight"
24. "You won't be able to resist"
25. "I'll put a spell on you"
26. "Tonight I become the villain"
27. "Unleash your inner demon"
28. "Evil makes my heart skip a beat"
29. "I was born wicked"
30. "Raising hell and eyebrows"
31. "The gates of hell open tonight"
32. "Unholy creatures walk the earth"
33. "Tonight evil takes its true form"
34. "The veil between worlds wears thin"
Also read: 200 Creepy captions for Instagram | Zombie | Haunted | Scary (Halloween edition – 2023)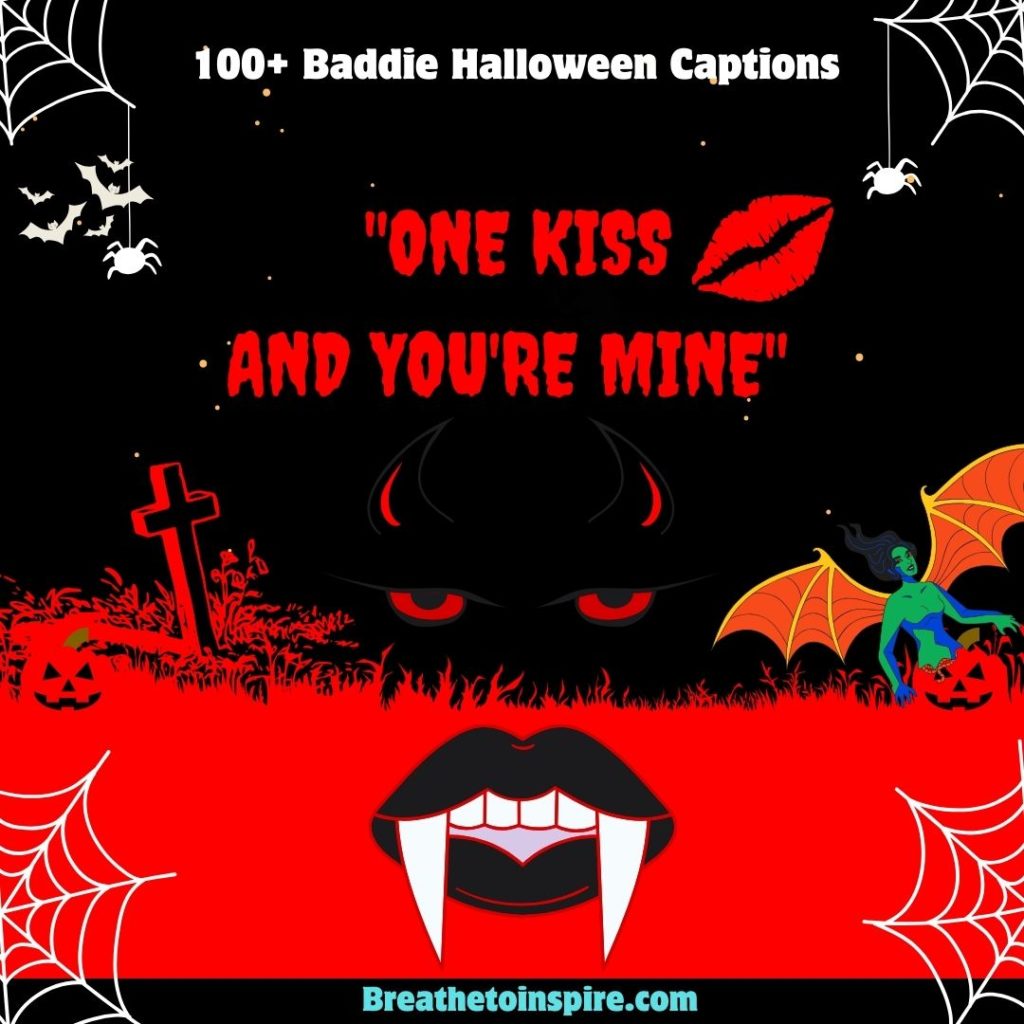 Baddie halloween captions for Instagram
List of baddie halloween captions for instagram include:
1. "I'm brew-tifully wicked this Halloween season. 🧙‍♀️🌙 #MeOnTheGram"
2. "Boo! 👻 It's all about me and my bewitching vibes. 🎃✨ #HalloweenBaddie"
3. "Creepin' into your feed like the true Halloween queen I am. 💀📸 #InstaMe"
4. "I'm the treat you've been waiting for this Halloween. 🍭🖤 #MineOnInsta"
5. "Mirror, mirror on the wall, I'm the baddest of them all. 🪞💁‍♀️ #HalloweenSlay"
6. "Slayin' in style because it's all about me this Halloween. 💅🎃 #MeOnFleek"
7. "No tricks, just treats when you follow my Halloween journey. 🍬📷 #AllAboutMe"
8. "Witch, please! 🧙‍♀️✨ I make Halloween look good on my Insta feed. #MeBeingMe"
9. "This Halloween, I'm the one casting the spells. 🔮💋 #InstaWitchy"
10. "I put a spell on you, and now I've got your attention. 🌟🎃 #MineOnTheGram"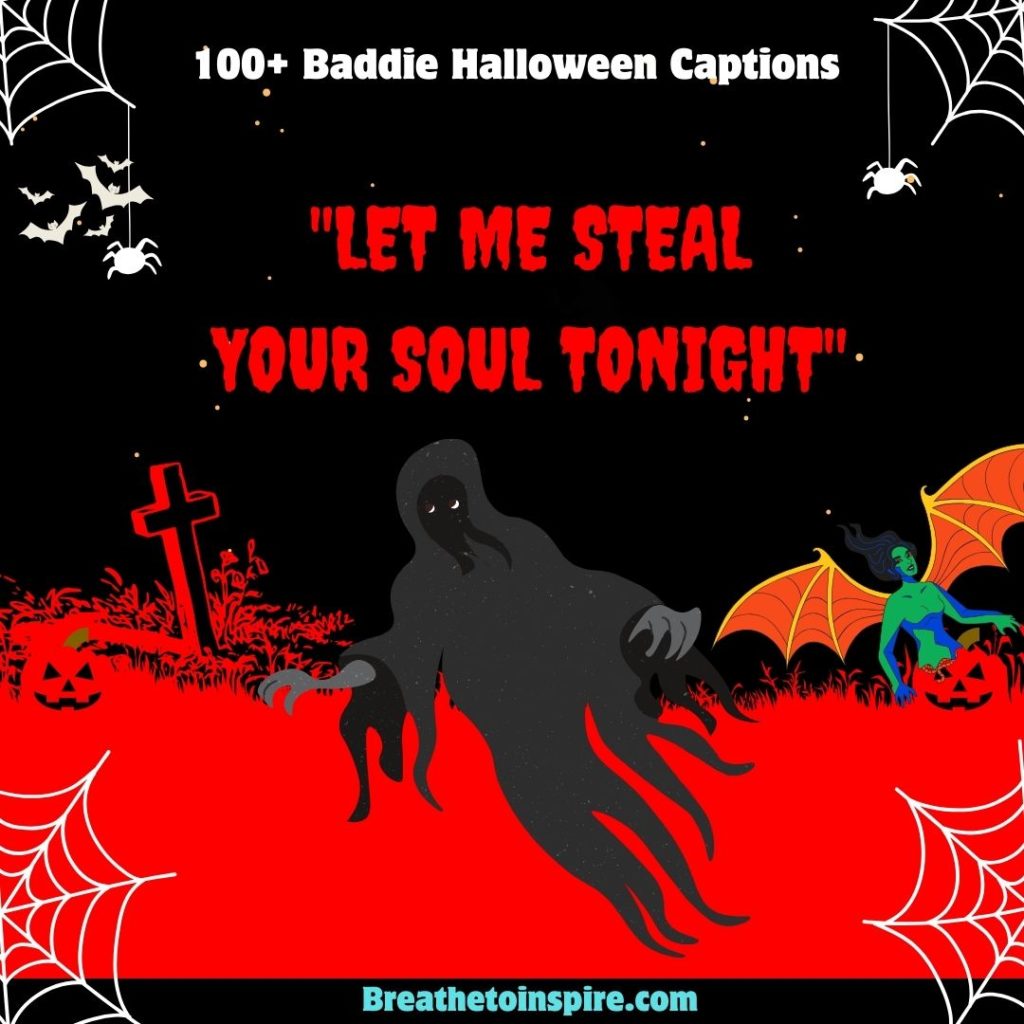 11. "I'm the queen of the haunted castle, ruling my Insta kingdom. 👑🏰 #HalloweenQueen"
12. "Trick or treat yourself to some fierce Halloween vibes, brought to you by yours truly. 🎃🍭 #MeFirst"
13. "Ghouls, ghosts, and glamour – it's all about me on Insta this Halloween. 💃👻 #MeAndOnlyMe"
14. "No need for a costume, I'm naturally fabulous. 🦇💄 #HalloweenGlamour"
15. "Bats, cats, and a whole lot of 'Me'ow! 🐱🦇 #SpookyAndStylish"
16. "I'm here for the boos and the 'Gram-worthy moments. 🍻📸 #BooAndMe"
17. "Wearing black like it's the color of my soul. 🖤🧛‍♀️ #AllAboutMe"
18. "I'm wickedly chic this Halloween season. 😈💅 #MeAndMyStyle"
19. "Ready to fly high on the 'Gram with my broomstick and confidence. 🧹✈️ #WitchyAndWise"
20. "Monsters under the bed? Nah, I'm the real monster in your Insta feed. 📱👹 #HalloweenMonsterMe"
Also read: 200 Spooky captions for Instagram on this Halloween Season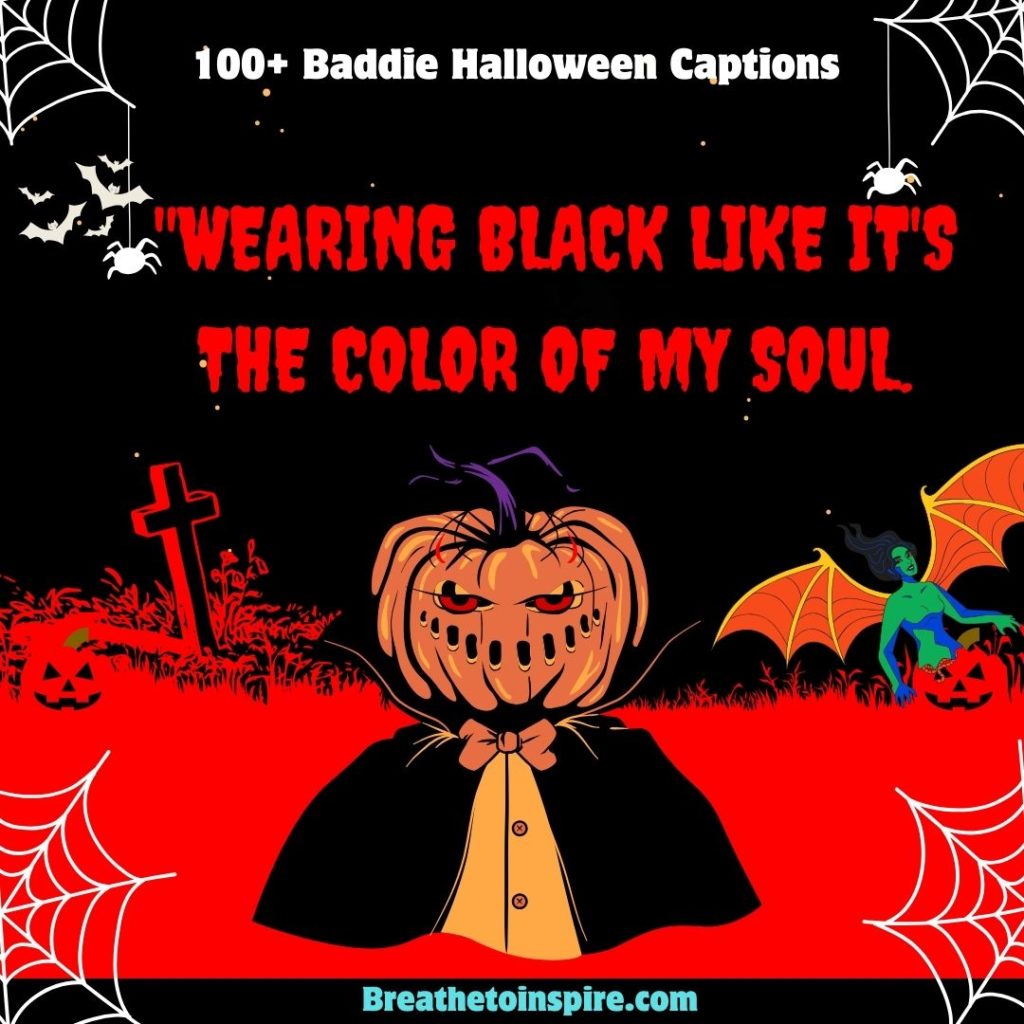 Best Halloween baddie captions
Here are a few of the best halloween baddie captions:
1. "Tonight I shall unleash a thousand curses"
2. "Unimaginable horrors await you"
3. "Listen for the sounds of terror"
4. "Cross my path and tremble"
5. "Today I become the dark lord"
6. "Nothing will protect you from my dark magic"
7. "Tonight I become the villain"
8. "I will unleash darkness upon you"
9. "My evil knows no bounds"
10. "Let the reign of terror begin"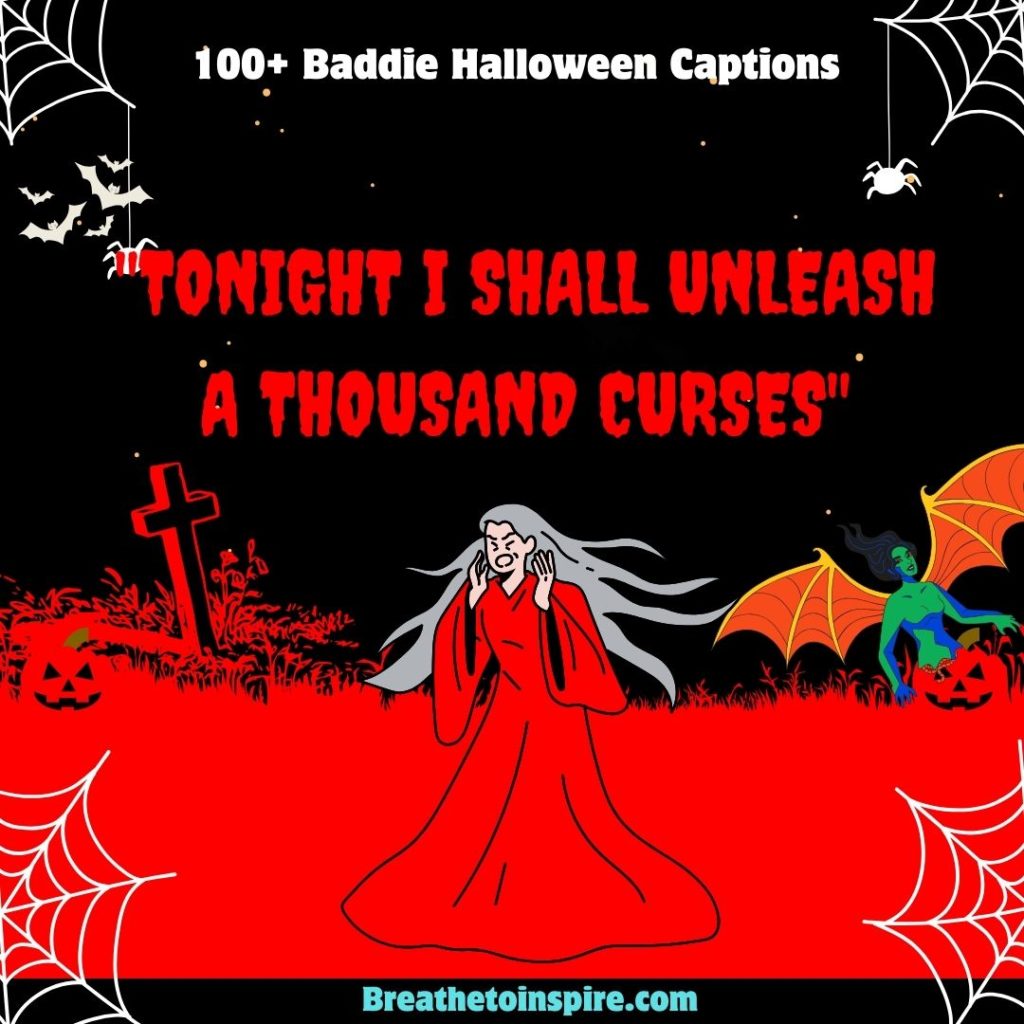 11. "Your screams will echo through the night"
12. "Let the games of darkness begin"
13. "Let the mayhem commence"
14. "Awaken my evil genius"
15. "The night terror has begun"
16. "Diabolical mischief is afoot"
17. "A night of wicked delights"
18. "Evil lurks in the shadows"
19. "I hold all the power"
20. "I am the dark force"
Also read: 200+ Scary captions for Instagram (Halloween Edition)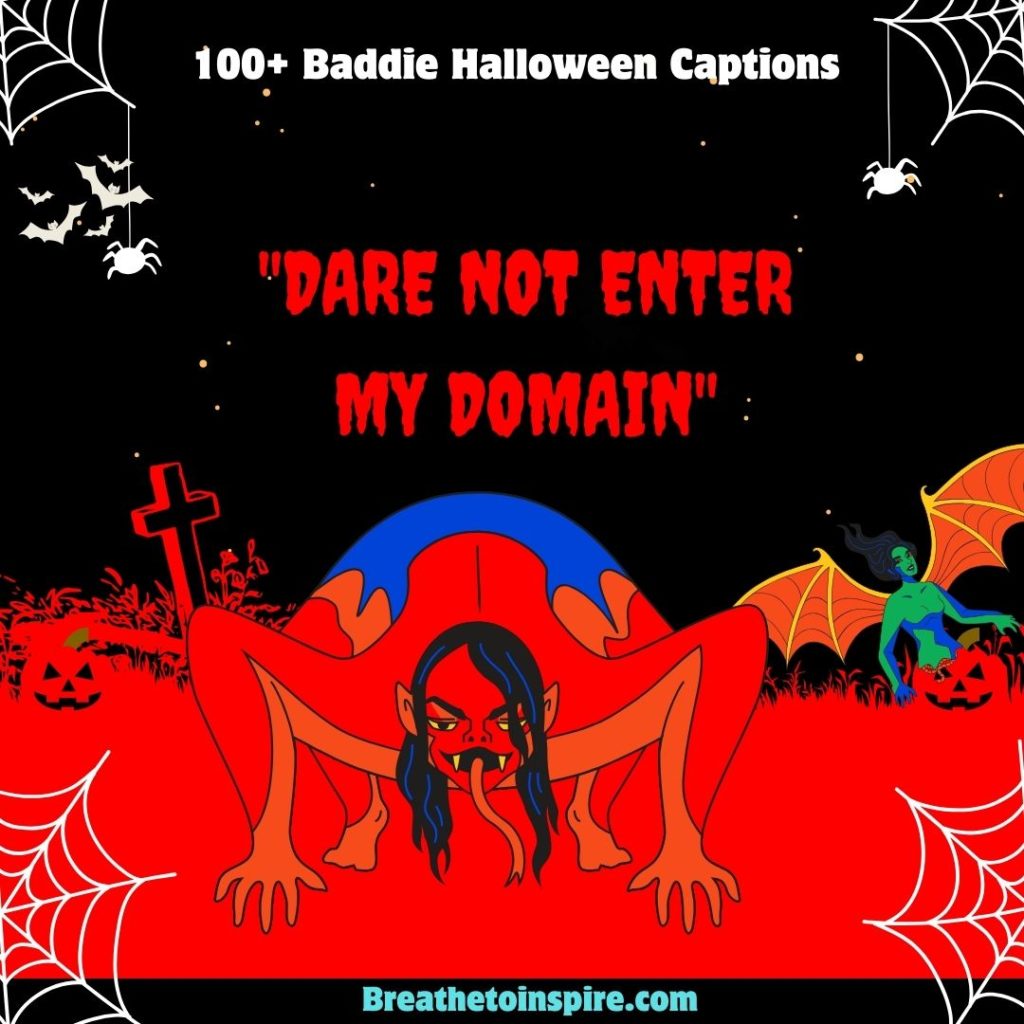 21. "You won't escape my wrath"
22. "The night belongs to me"
23. "Look into the abyss of terror"
24. "Beware my wrathful anger"
25. "You will learn to fear me"
26. "My wrath will know no limits"
27. "You dare not defy me"
28. "Tonight my power grows"
29. "Your fears become my strength"
30. "Tonight I will become unstoppable"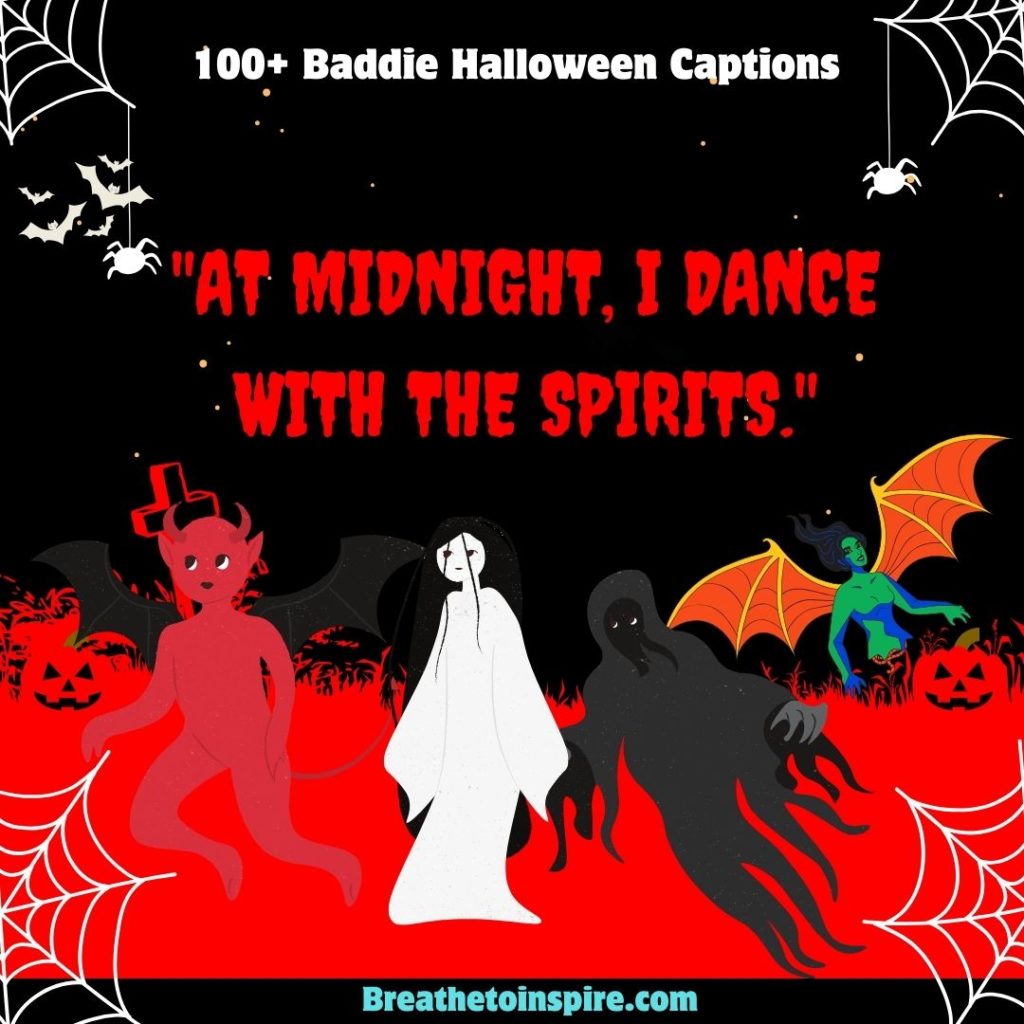 31. "My dark soul will prevail"
32. "Devils come out and play tonight"
33. "The darkness will consume you"
34. "My wicked ways will never die"
35. "Tonight is a night of nightmares"
36. "Cursed by the ancient gods"
37. "No one knows what awaits them"
38. "Dare not enter my domain"
39. "The wicked awaits in the dark"
40. "Beware the night terrors"
41. "Your worst nightmares come true"
42. "The shadows cast a dark shadow"
43. "This Halloween, you don't wanna cross me"
44. "Tonight I'm wilder than a witch on a broom"
45. "Watch out or it will be a frightful night"
46. "Mwahaha, your screams of terror will be music to my ears"
47. "Tonight I will become the evil overlord"
48. "Fear me or suffer the consequences"
Also read: 500+ Halloween Instagram Captions that make your posts spooktacular (IG Edition 2022)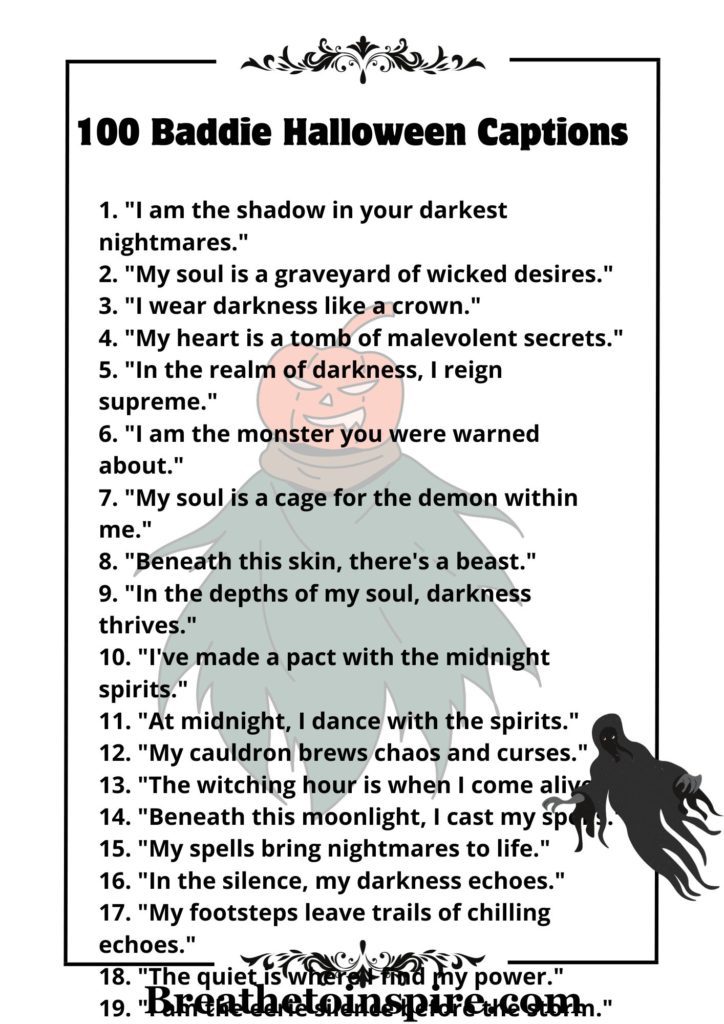 Halloween captions for baddies
Some halloween captions for baddies include:
1. "I am the shadow in your darkest nightmares."
2. "My soul is a graveyard of wicked desires."
3. "I wear darkness like a crown."
4. "My heart is a tomb of malevolent secrets."
5. "In the realm of darkness, I reign supreme."
6. "I am the monster you were warned about."
7. "My soul is a cage for the demon within me."
8. "Beneath this skin, there's a beast."
9. "In the depths of my soul, darkness thrives."
10. "I've made a pact with the midnight spirits."
11. "At midnight, I dance with the spirits."
12. "My cauldron brews chaos and curses."
13. "The witching hour is when I come alive."
14. "Beneath this moonlight, I cast my spells."
15. "My spells bring nightmares to life."
16. "In the silence, my darkness echoes."
17. "My footsteps leave trails of chilling echoes."
18. "The quiet is where I find my power."
19. "I am the eerie silence before the storm."
20. "In solitude, my evil thoughts take flight."
21. "I am the abyss that swallows the light."
22. "My soul is eternally draped in midnight."
23. "The night never ends in my world."
24. "In my veins, flows the ink of eternal night."
25. "I am the starless sky on the blackest of nights."
Also read: 135+ Boy dressed as a girl TG captions Halloween edition – 2023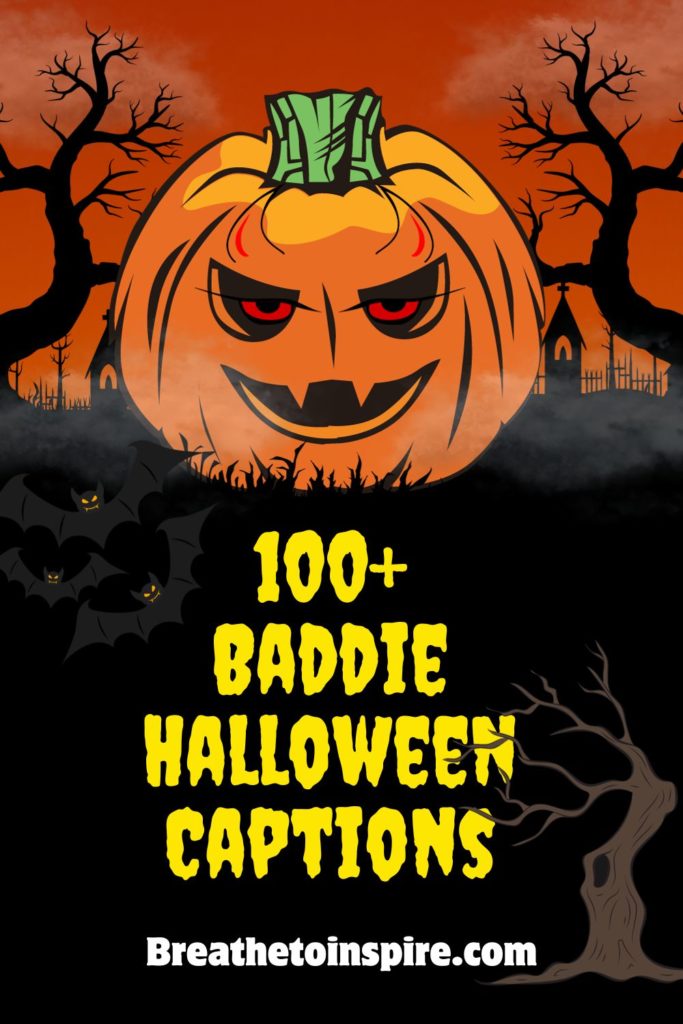 Baddie captions for halloween
These are a few baddie captions for halloween:
1. "I'm your worst nightmare, and I'm here."
2. "I do bad things, no remorse."
3. "I'm the darkness in your soul."
4. "I'm pure wickedness, no denying it."
5. "I'm the scary shadow lurking nearby."
6. "My curses are nasty, watch out."
7. "I call upon dark forces."
8. "My spells bring harm, no joke."
9. "I trick and trap with my powers."
10. "My magic is bad, not to be trusted."
11. "I'll lead you astray, beware."
12. "My charm hides evil intentions."
13. "Behind my looks, there's cruelty."
14. "I'm wicked inside, don't be fooled."
15. "I enchant, then cause trouble."
16. "I come from the shadows at night."
17. "I'm your worst fear personified."
18. "I give chills to the bravest."
19. "Darkness is my home, I rule it."
20. "I am the night, seeking fear."
21. "I enjoy scary, creepy things."
22. "Fear is my favorite flavor."
23. "I laugh when others scream."
24. "I dance in the midst of horror."
25. "Tonight, I feast on fear."
Also read: 225+ Halloween captions for Business (2023 edition)
Evil Baddies halloween captions
Some of the evil baddies halloween captions include:
1. Trick or Treat? Beware the dark one who lurks beneath.
2. Spirits lurk in the shadows as ghouls wait to take your soul.
3. Come little ones, and witness the dark side of Halloween.
4. Evil never sleeps on Halloween night.
5. Beware the shadows of the night for they may bring terror.
6. Dare to enter the realm of the wicked this Halloween.
7. Into the depths of evil you must venture on this night.
8. Tricks and treats are my game this Halloween.
9. The wrath of the wicked lurks on every corner.
10. As the witching hour descends, beware the haunting shadows.
11. Enter if you dare, the unholy kingdom of the terrible baddie.
12. Step into the night, and join the dark parade.
13. Dare you enter the hall of the wicked this Halloween?
14. Following the trail of the wicked on this dark and spooky night.
15. Beware of the ghastly ghouls that haunt the baddie hall.
16. Cautiously walk through the corridor of frights this Halloween.
17. Demon's delight, but a trick or treat for you?
18. Find out the fate of the unlucky by walking the haunted path.
19. Curiosity put the wicked in charge this Halloween.
20. Watch your step on this spooky and evil night.
Also read: 175+ Sissy Halloween Captions (TG costume captions – 2023 Edition)
Conclusion:
With our "100 Baddie Halloween Captions," your Instagram will radiate confidence and style this Halloween.
Whether you're a spooky queen or a fierce vampire, these captions will elevate your posts to a whole new level.
Embrace your inner baddie, and watch your likes and followers soar this Halloween! 🎃💁🏻‍♀️📸 #BaddieHalloweenCaptions
This page may uses affiliate links. When you click an affiliate link, we get a small compensation at no cost to you. See
Our affiliate policy
for more info.