Christmas is one of the most anticipated holidays of the year, and it's no wonder why! Whether you celebrate the holiday with family, friends, or with strangers, there's something special about the feeling of Christmas.
This year, why not make the most out of your holiday and make it extra special with some fun Christmas activities? From baking holiday cookies to going on a festive outdoor adventure, there's no shortage of Christmas things to do.
In this blog post, we'll discuss some of the best ideas for things to do on Christmas, so that you can make the most of your holiday and create some unforgettable memories.
From classic Christmas activities to fun and creative new ideas, we've got something for everyone. So grab your hot cocoa, put on your favorite Christmas music, and let's explore some of the best ways to make the most of your Christmas holiday!
20 Things to do on Christmas Day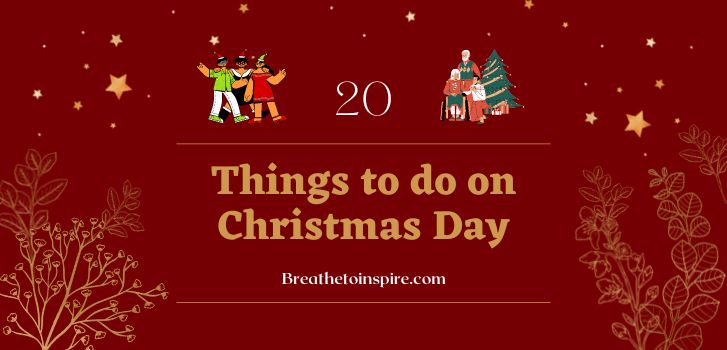 The following is a good list of things to do on christmas day, weekend or during christmas eve (kids and adults edition):
1. Have a Christmas Day Cooking Competition
Put your cooking skills to the test and have a family cooking competition. Everyone can make their own dishes, and you can even have a panel of judges to decide the winner.
2. Make a Snowman
If you're lucky enough to have a white Christmas, make sure you take advantage of it by building a snowman. Grab the carrot, buttons, and scarf, and have some fun competing to see who can make the best one.
3. Participate in a Christmas Day 5K
Most runners will tell you that running a race on a holiday actually adds to the fun—and if your family is full of fitness fanatics, consider making Christmas a race day. Check out local running clubs or search online to find out if any races are scheduled in your area on December 25.
4. Take a Hike
If you're looking for a way to get out of the house and burn off some of that Christmas dinner energy, consider a family hike. Bundle up, pack a thermos of hot cocoa, and head out to a nearby trail. If the weather isn't cooperating, find a local indoor track or a mall that's open on Christmas Day and take a few laps.
5. Hunt for Christmas Lights
Head out after dinner for a drive around town to check out the Christmas lights. You can even make it a game by seeing who can spot the most decorations or who can find the brightest house. (Don't forget to bring some car snacks!)
Also read: 350+ Never have I ever Christmas questions (winter holidays game edition) for family, friends or office party
6. Bake Christmas Cookies
If you've got a house full of kids, this activity is a must. Set up a baking station and let everyone take turns measuring and mixing ingredients. Don't forget the sprinkles!
7. Watch a Christmas Movie Marathon
There are so many classic Christmas movies to choose from, from It's a Wonderful Life to Elf, so gather the family and pop some popcorn while you watch.
8. Play Charades
Holiday-themed charades are a great way to get everyone laughing. Make up your own categories like "Christmas Movie Titles" or "Christmas Characters," or check out these printable charades cards.
9. Have a Gift Exchange
If you haven't already exchanged gifts, Christmas Day is the perfect time to do it. You can even make it a Secret Santa gift exchange and hand out presents after dinner.
10. Make a Gingerbread House
No Christmas is complete without a gingerbread house! This activity is a great way to get the whole family involved in a creative project.
Also read: 300+ Christmas activities for all ages that make your holiday season unforgettable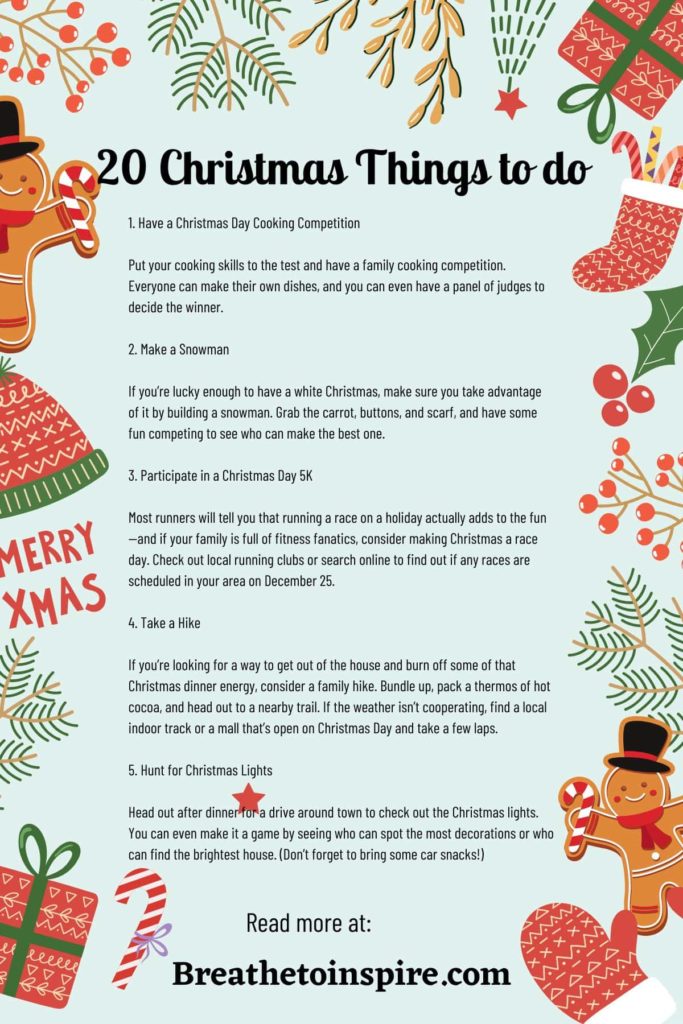 Christmas things to do for family, friends, work or at party
11. Have a Christmas Karaoke Night
Grab the microphone and get ready for some laughs as you all take turns singing your favorite Christmas carols. Whole family will love it!
12. Make Christmas Crafts
Get out the art supplies and let your family's creativity shine with a Christmas craft. You can make holiday cards, decorations, ornaments, or even a festive wreath.
13. Head Out for Ice Skating
If you're brave enough to brave the cold, head out for a family skate. Many ice rinks are open on Christmas Day, so you can enjoy an outdoor activity without having to worry about the weather.
14. Take a Christmas Day Road Trip
If you're looking for a unique way to spend Christmas, take a road trip to a nearby city or town. Check out the local holiday festivities, grab a bite to eat, and enjoy the sights and sounds of the season.
15. Have a Hot Cocoa Bar
Nothing says Christmas like a steaming mug of hot cocoa. Set up a hot cocoa bar with fun toppings like marshmallows, candy canes, and sprinkles, and let everyone enjoy this sweet treat.
Also read: 100+ Christmas trivia questions and answers from movies to food (2022 game edition for kids and adults)
16. Take a Christmas Day Selfie
Take a family selfie and commemorate your Christmas Day with a snap. You can even make a photo album or scrapbook to look back on in years to come.
17. Have a Dance-Off
Put on some holiday tunes and have a family dance-off. You can even create your own holiday dance moves and make it a fun competition. It's sure to be a hit!
18. Read Christmas Stories
Curl up on the couch and read some of your favorite Christmas stories. You can even create a cozy reading nook with Christmas decorations and treats, like hot chocolate and cookies.
19. Play Classic Board Games
Put away the electronics and have a good old-fashioned family game night with some classic board games. Trivia, Monopoly, and Life are all great options for a festive evening.
20. Have a Christmas Scavenger Hunt
Set up a holiday scavenger hunt with clues hidden around the house and yard. You can even make it a race to see who can solve the clues and find the hidden prize first.
Also read: 500 Christmas this or that questions game edition for winter holidays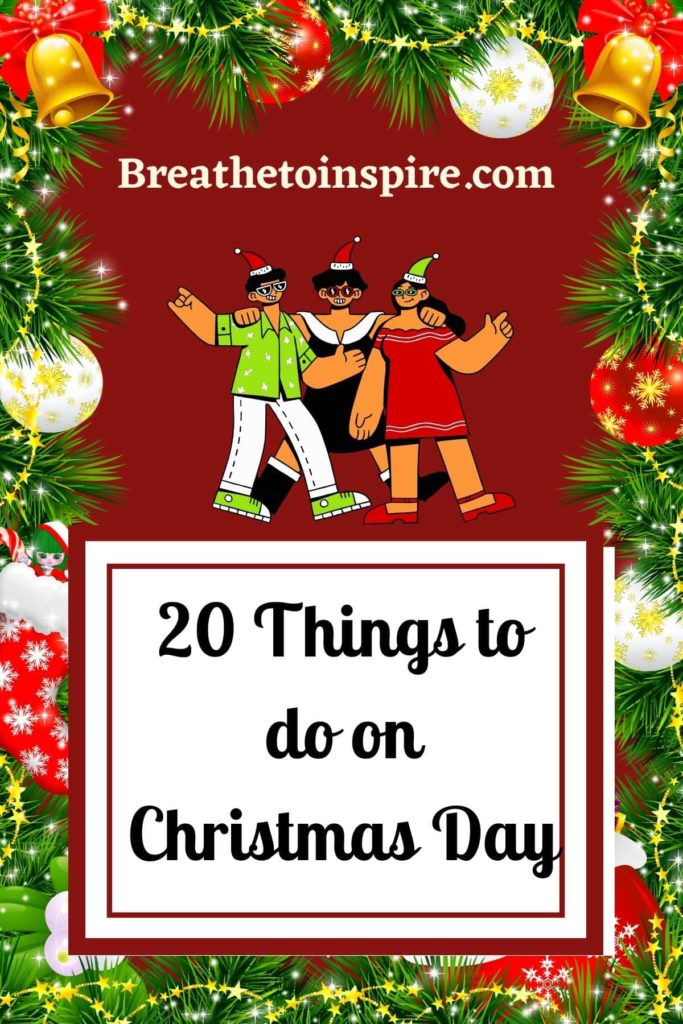 This page may uses affiliate links. When you click an affiliate link, we get a small compensation at no cost to you. See
Our affiliate policy
for more info.